Well, there's a first time for everything. Who's to say Dale Evans didn't own a pair of them?
Two of my princesses were playing Cowboy and Indian today. I love their imagination. They even got Drago in on the action. Compared to them he is about the size of a horse.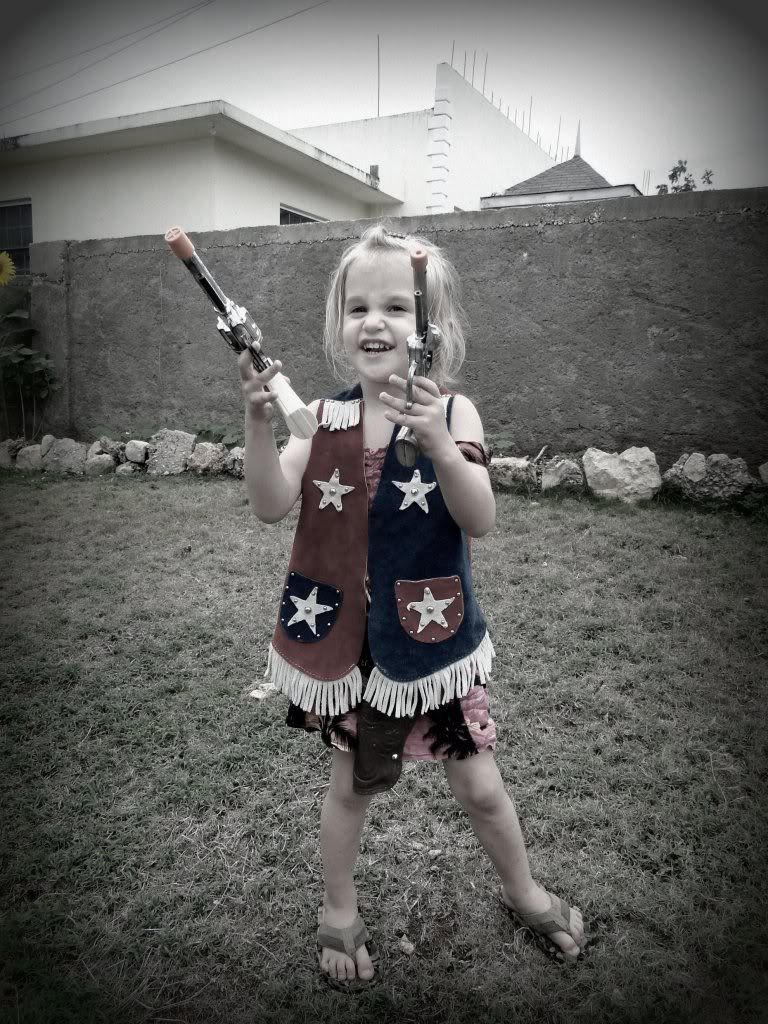 I heard Alexis calling Eden "Nacogdoches".
It's off of a cowboy movie they watched with daddy.
Ok, I'm gonna show you a picture but you have to promise that you'll control yourself. No licking the computer screen, ok?
Some call it a Texas Sheet Cake, that's what Prince grew up calling it. My Grandma called it a Cowboy Cake. The princesses call it "Favorite Cake". No matter what you call it...it's dreamy good. I took it to a meal we had, after morning church service, last week...and it was gone fast.
Cowboy Cake Recipe
2 cups flour
2 cups white sugar
1 teaspoon baking soda
1/2 teaspoon salt
1/2 cup sour cream
2 eggs
1 cup butter
1 cup water
5 tablespoons unsweetened cocoa powder
1. Preheat oven to 176 degrees C. Grease and flour a sheet cake pan
2. Combine the flour, sugar, baking soda and salt. Beat in the sour cream and eggs. Set aside. Melt the butter on low in a saucepan, add the water and 5 T. cocoa. Bring mixture to a boil then remove from heat. Allow to cool slightly, then stir cocoa mixture into the dry ingredients, mixing until blended.
3. Pour batter into prepared pan.
4. Hide the bowl from the kids so you can lick it clean in a few minutes.
5. Bake in the preheated oven for 20 minutes, or until a toothpick inserted into the center comes out clean. (in my oven it is about 15 minutes)
Icing
This is really what makes it...."rub your belly" yummy.
6 Tablespoons milk
5 Tablespoons unsweetened cocoa powder
1/2 cup butter
4 cups powdered sugar
1 teaspoon vanilla extract
(you can add a cup of nuts if you wanted...we don't)
In a large saucepan, combine the milk, 5 T cocoa and 1/2 cup butter. Bring to a boil, then remove from heat. Stir in the confectioners' sugar and vanilla, then fold in the nuts, mixing until blended.
You have to time this just right. To make it right you spread the frosting over the cake as soon as you take it out of the oven. But, don't make the frosting to soon, or it will get hard. Prince loves to eat the cake warm. Enjoy.